SAFE LIFTING PRACTICES COURSES

Date: 24 & 25 October 2016

09:00 am – 17:00 pm

Venue: NOSH Global Sdn.Bhd

Course Fees: RM 450.00 /Person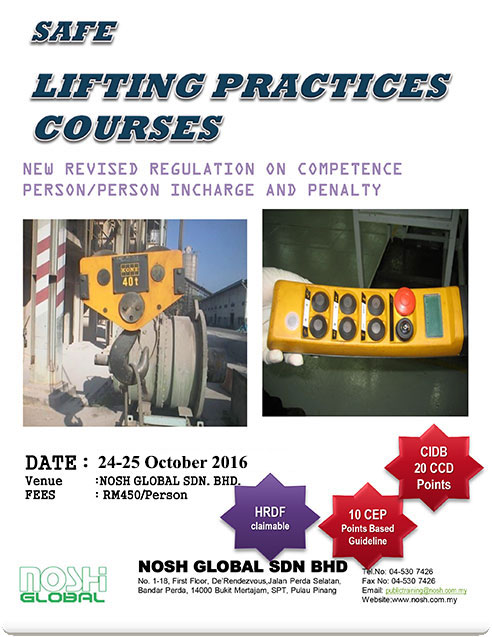 AIM
This is a one day course designed to suit the requirements of trainees who have limited or no knowledge of safe lifting technique
MAJOR COURSE TOPIC
Laws and legislation on lifting operation (New)
Rules and duties of personnel in lifting operation
Planning for safe lifting operation
Crane type inspection (Mobile Crane, Overhead Travelling Crane and others lifting machine)
Crane operation hazard
Determining load weight and evaluating the load
How to read load chart for Mobile Crane
Wire rope types and inspection
Chain sling inspection
Synthetic web sling inspection
Hook and shackle inspection
Rings and link inspection
Eye bolts and hoist ring inspection
Plate clamp and beam clamp inspection
Hand chain and lever hoist inspection
Below-the hook lifting device
Sling tag and capacity marking
Proper inspection technique
Common causes of rigging damage
 COURSE OBJECTIVE
On successful completion of this course, candidates will know (Theory and practical):
The requirements on the legislation regarding mobile cranes, Overhead Travelling Crane and other hoisting machine
The terminology used to identified the crane components or parts
The safe setting up the cranes and its equipment
How to identify the purpose and capacity of lifting tackle in general use for lifting
The correct method of crane inspection (mobile and crawler crane)
 WHO SHOULD ATTEND
Safety and Health Officer
Safety and Health Supervisor
Site Safety Supervisor
Crane Operators
Production Supervisor
Crane Mechanics/Technician
BENEFITS
Take precaution and measures to prevent accidents with the movement of load handle by a crane
Being able to identify all lifting devices
Ensure crane operate within limits set by the rated load chart
Safely and efficiently use of lifting gears
To understand new revised regulation on Competence Person (PIC) and penalty (New) Appoint skill person to preform any lifting activity
TRAINER PROFILE
Tuan Haji Mohd Kudzi bin Hamat holds a Diploma in Mechanical Engineering from University Technology Malaysia and has been served with Department of Occupational Safety and Health for the past 29 years and currently with (DOSH) Penang. Appointed as DOSH Officer since 1985 with services history as in DOSH Pahang, Kuala Lumpur, Selangor and Headquarters. Has experience in crane safety and hoisting machines, construction safety, workplace inspection and audit relating to safety and health and also gives talk in various seminar organize by employers and associations and has been a regular speaker in Safety and Health Officer training course conducted by training providers. He also a part time lecturer at University Malaysia Perlis (UNIMAP) for Safety and Health Program.